Lies, damned lies and statistics - The new Bihar
Book review : The New Bihar by N. K Singh and N. Stern
"Statistics are like a bikini. What they reveal is suggestive, but what they conceal is vital." -

Aaron Levenstein
For last six months or so, Indian politics is facing turmoil. Every week Indian realise some new scam on the horizon. Prolific administrators, experts loosing faith day by day. Old friends are now foes and many new alliances are ready to take first breath on the occasion of coming elections 2014. Out of many obvious fights, such as BJP Vs. Congress, left Vs. right, Established Vs. emerging, common man first time saw two state CM fighting to convenience his state is No.1 Indian state - Gujarat and Bihar.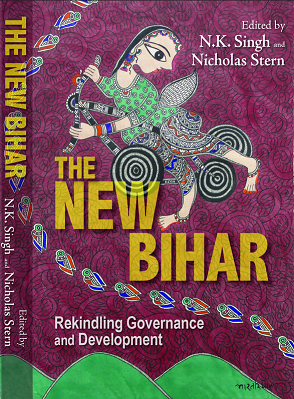 One-handed control, passion for development, changed attitude of handling power are among many reasons, these two can be really proud of. But instead all of this, then the partners of NDA both CM are now foes and don't want to even utter name of other fellow. Even though the INC being common enemy of both, clashes among two tycoons is going to benefit congress.
If this fight would not have been politically motivated, would have helped the states to excel further. Self esteem among citizens of these states would be real energy to accelerate states further. Being said that, it is equally appreciable that both CM are taking great advantage of the work both have done in the respective state.
To establish the superiority, several strategies are practiced by the respective supporters and admirers, to prove the point of being No. 1 state. One of the way opted by the followers of these two is printed media. The edited book, The new Bihar - rekindling governance and development is on the same path, I presume.
Organisation of the book:
This is edited book by the authors and contains 29 contributed articles. Contributor's list contains some big shots like Amartya Sen, Montek Singh Ahluwalia, Meghnad Desai, M.S. Swaminathan, Nandan Nilekani and others. Book is divided into VII sections: The big picture, The growth turnaround, Fiscal and financial management, Half full, Half empty, Crystal glazing, and The new culture and identity narrative. Book starts with Introduction by editors.
Positive points:
On

receiving

the book, I was impressed by the first appearance. It is well bound and has good quality.

Book uses seven original, superb Madhubani paintings by Bharti Dayal. These paintings not only decorates the book but describes the section as well.

Articles are divided aptly in seven sections.

Few

articles

by Sudipto Mundle, A. Mukharjee, Rukmnin Banejee, K. Srinath Reddy, M.S. Swaminathan, Y. Alagh, Deepak Parekh, Deepak Bhattasali, Tarun Das and Lord Karan Bilimoria are excellent.

These articles forms the 2 sections of the book: Half full and half empty. Mentioned author has written

articles which puts forward true picture of Bihar.

List of

abbreviation

( very important for such kind of book) is complete.
Negative points:
Introduction is casually written. It's appears to be a mere copy paste job with added mistakes. It seems to be written in hurry and therefore not homogeneous.

There are some technical mistakes in introduction, which can be removed in next edition:

Absence of axis names on graphs, small paragraphs, mentions of the vital information borrowed from the articles etc.

Book is not edited properly -

repetition

is the consequence. Till the half of the book similar points such as GDP growth, history of Bihar and exaggerated achievements of CM among many. Some of the articles seems forcefully introduced and carries no substantial addition to the book. Moreover these are written very lousily.

As the starting quote of this write-up mentions, statistics is like bikini bathing costume....describes the precise level of the statistical information presented. Revealed info is so presented that it would project only good features of current CM

achievements

. There is no clear cut mention of failures of the current government. Supplied material is not lie, however not the complete truth. 'The New Bihar...' seem to have some hidden agenda rather than picturing the growth of Bihar.
"There are lies, damned lies and statistics" - Mark Twain
My rating:
2.5 star out of 5. May be liked by those, who knew nothing about Bihar and its administration.
Technical details:
Authored By:

Nicholas Stern, N. K. Singh
Edited By:

N. K. Singh, Nicholas Stern
Publisher:

Harper Collins Publishers (2013)
No. of pages : 360
Book type: Non-fiction
Related links: